The Chicago Bulls have been around for 56 years and have won six NBA championships. They found success in the 90s when they won their six titles in the form of two historic hat-tricks. Michael Jordan and Scottie Pippen propelled the Bulls to their first hat-trick. Dennis Rodman joined the elite duo to form arguably one of the greatest lines of all time.
ADVERTISING
The article continues below this ad
The trio of Jordan, Pippen and Rodman helped the Bulls win another hat-trick. However, all three Hall of Famers left the Bulls after winning their sixth championship in 1998.
ADVERTISING
The article continues below this ad
Michael Jordan, Scottie Pippen and Dennis Rodman were among the best players in the league in their day. They were also compensated accordingly by the teams they played throughout their careers. Fans all wondered who earned the most salary among the three during their career.
DIVE DEEPER
However, when comparing their salaries during their NBA careers, one must consider how long they have played in the league. Jordan retired twice before returning to the NBA. Meanwhile, Rodman's NBA career began at age 25. Pippen, however, played for 17 years.
Scottie Pippen had more career earnings than Michael Jordan and Dennis Rodman
Scottie Pippen earned a total of $109 million over the 17 seasons he played in the NBA. However, he has often been called the most underpaid player of all time, as he only earned $2.6 million while Jordan earned over $30 million. Most of Scottie's career gains came late in his career when he joined the Houston Rockets before playing in Portland and then joining the Bulls again.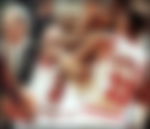 Michael Jordan is now a billionaire and is the richest athlete in the world. However, most of his income came from his endorsements and off-field investments. He raked in $93.7 million in wages during his 16-year playing career. However, he earned just over a million in the two seasons he played for the Washington Wizards.
Dennis Rodman played for some of the biggest NBA teams in his day. He started his career with the Detroit 'Bad Boyy' Pistons, before joining the San Antonio Spurs. He then joined the Chicago Bulls in 1995 and won a treble with them. Rodman had a 14-year career. During his time in the NBA, the five-time champion earned $27 million in wageswhich is the weakest of the three.
ADVERTISING
The article continues below this ad
Comparison of net worths of Michael Jordan, Scottie Pippen and Dennis Rodman
Jordan achieved his billionaire status in 2014. According to CelebrityNetWorthMJ's net worth is around $2.2 billion.
WATCH THIS STORY: Michael Jordan and Charlotte Hornets, LeBron James and Liverpool FC, and other NBA players who hold stakes in sports franchises
ADVERTISING
The article continues below this ad
Scottie Pippen's net worth is around $20 million which is arguably very low compared to that of Jordan. Denis Rodmanmeanwhile, has a net worth of around $500,000 now, due to personal issues in recent years.
What do you think of the salary and net worth comparison between the former Bulls trio? Let us know in the comment section below.